Back to top
News and Announcements
BridgePrep Family Event- Miami Dolphins Game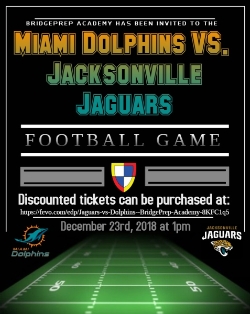 BridgePrep Academy has been invited to the Miami Dolphins vs. Jacksonville Jaguars football game. The game is on December 23rd at 1pm.
For discounted tickets, please visit https://fevo.com/edp/Jaguars-vs-Dolphins--BridgePrep-Academy-8KFC1q5.
Can't wait to see you at the game!

HAPPY WORLD TEACHERS DAY!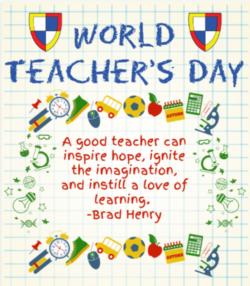 To all the teachers in the world, today we celebrate you!
Happy World Teachers Day!
#HappyWorldTeachersDay #BridgePrepTeachers #BridgePrepAcademySchools #BridgePrepAcademyGreaterMiami #WeAreBridgePrep

2018-2019 Bell Schedule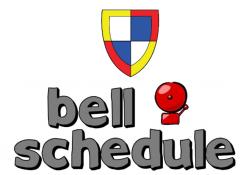 The 2018-2019 Bell Schedule has been posted on the school website.
Visit http://bridgeprepgreatermiami.com/apps/bell_schedules/ for more details.

COME ONE COME ALL!!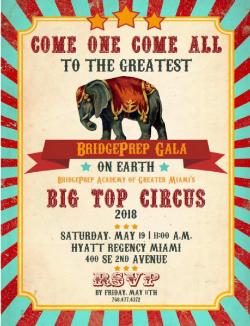 Don't forget to purchase your tickets to our "Big Top Circus" gala event on Saturday, May 19th! Tickets will be on sale until May 11th. Remember, if you sell a box of chocolate, you get $15 off of your Gala ticket! COME ONE, COME ALL!

Come See What BridgePrep Has To Offer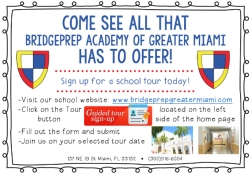 Sign up for a school tour today!

Gala is coming up on May 19th! Buy your tickets today!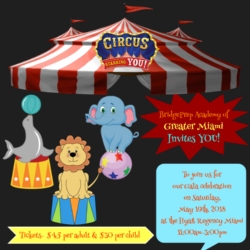 Our Gala event is coming up on Saturday, May 19th at the Hyatt Regency Miami. This event includes lunch, raffles, performances from our talented BridgePrep students, and more! Tickets are on sale in the main office now. In addition, we still have World's Finest Chocolate boxes in the main office to pick up! For every box you sell, you get $15.00 off your Gala ticket purchase.
Also, by Friday, April 27th, please contact your homeroom teacher letting them know whether or not your child will be participating in the Gala, since dance rehearsals have begun. If your child is participating in the Gala, your homeroom teacher can give you the information on the costumes your child will need to wear for the show.
Don't miss out on this wonderful event

McTeacher's Night!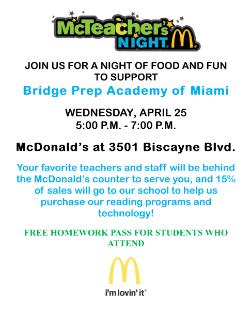 Join us for our McTeacher's night at McDonald's (3501 Biscayne Blvd) on Wednesday, April 25th at 5:00pm-7:00pm for a night of food and fun to support our school. 15% of all sales during this time, will go towards our reading programs, as well as technology! Come out to support!

FSA testing flyer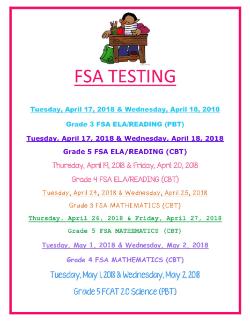 It's testing season! time for the FSA for our 3rd-5th grade students. Please read the attached flyer for important dates coming up! ✔️

Show Your School Spirit and earn PAVE hours today!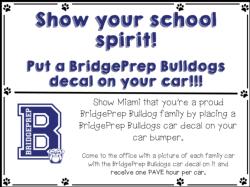 Show Miami that you're a proud BridgePrep Bulldog family by placing a BridgePrep Bulldogs car decal on your car bumper.

Kyan's Kause tickets ON SALE!!!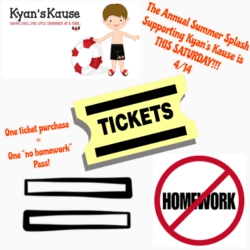 Friendly reminder that tickets are still being sold for the Kyan's Kause Annual Summer Splash taking place at Grapeland Water Park THIS SATURDAY April 14th at 5:30pm!
In fact, whoever buys a ticket tomorrow will receive a "no homework" pass that can be used this week, or saved for another time! Tickets are $10, and can be purchased (or donated) using cash, check, or credit card in the main office.
Tickets will be sold until Friday at 4:00pm!
The CLASS with the most tickets sold, will receive a PIZZA PARTY!!!
The SCHOOL with the most tickets sold, will receive an awesome water slide for our splash day!!!
Don't miss out on this fun event supporting a great cause